Perfect Ending of the 2nd National Nonferrous Metals Smelting Chemials and EP Exchange Conference
14-01-2019
The 2nd National Nonferrous Metals Smeling Chemials and Environmental Protection Engineering Techonolgy Exchange Conference was ended in Jan 13th, 2019. It's really honored to gain the chance to hold the conference with China Nonferrous Metals Industry Technology Innovation Alliance. Through this conference, our new and advanced environmenal protection technologies have been showed to the experts across the nation, our corporate culture "Integrity, Innovation, Excellence and Efficiency" have been smoothly promoted, our hospitality and guest-first principle have been demonstrated in a deep way. At the banquet, lots of clients expressed their gratitude to us, and indicate it's indeed a rare opportunity to bring together the experts and peers to exchange and learn from each other.

At the beginning of the conference ceremony, Guo Xueyi, the chairman of China Nonferrous Metals Industry Technology Innovation Alliance and vice-president of Central South University, made an initial statement, which was followd by Zhou Nanyang, the deputy secretary general of Zhuzhou Municipal People's Government. Both of them expressed their expectations for the development of nonferrous metals chemicals and environmental protection engineering technology and the best wishes for the successful holding of this conference.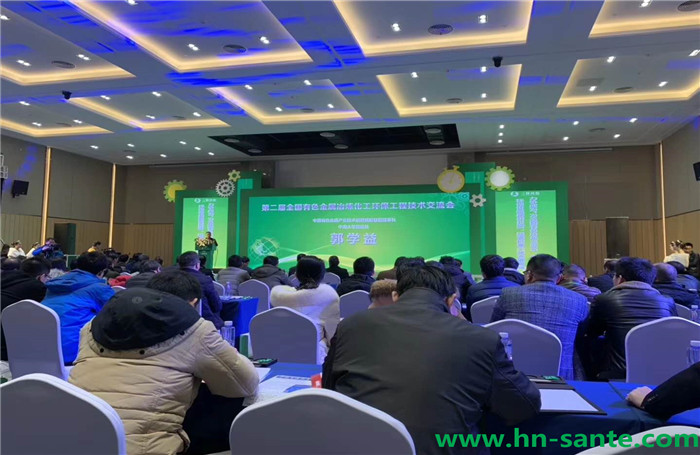 Next, Zhuzhou Sante EP & Energy Saving Co. Ltd has been awarded "Standing Director Units of China Nonferrous Metals Industry Technology Innovation Alliance", "Experts Workstation" and "Demonstration Project".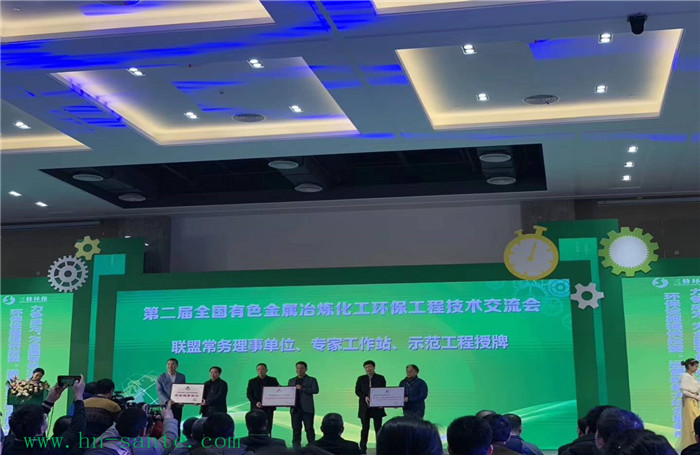 With that, Li Xuzhong, assistant chief engineer of Changsha Nonferrous Metallurgy Design and Research Co. LTD, shared the topic of "the current hotspot issues for fouling acid treament research". He introduced the treament agents like hydrogen sulfide, and discussed his own opinion for the treatment order: concentration first and vulcanization secondly, for it's more effective and cost-saving to eliminate fluorine, chlorine, arsenic and other metals. Besides, he also mentioned the equipments materials seclection, which is essential. It's recommended graphite for evaporator and titanium for cooler.
Then, Zhao Hua, the vice-general manager of our company, Zhuzhou Sante EP & Energy Saving Co., Ltd, discussed "the Study and application of sulfur-hydrogen composite super sulfide technology in waste electrolyte of dirty acid and copper" with us. At first, he introduced our company information to all honored guests. Established in February 2012, Zhuzhou Sante EP and Energy Saving Co., Ltd. is located in Zhuzhou High-tech Industrial Development Zone of Hunan Province. The company has a registered capital of 100 million yuan. With the goal of creating a "technical innovation", "resource saving", "friendly environment" enterprise, it was devoted to providing nonferrous metal smelting, chemical and electric power enterprises with environmental engineering design, engineering construction, production and operation general contracting, energy saving technology transformation, technical consulting services, and to providing clients with comprehensive environmental pollution control. The company is now transforming into offering technical, operational, investment and other services to the large-scale environmental protection projects of non-ferrous metal smelting enterprises. Through the recovery of valuable metals in waste gas, waste water, waste residue and other available resources, the three wastes will be converted into over 10 high value-added fine chemical products and new materials, like sodium metabisulphite, sodium sulphite anhydrous, zinc oxide, etc., which have truly realized the recycling of resources. The company enjoys high reputation and influence among environmental protection companies who offer non-ferrous metal smelting enterprises professional services in the fields of flue gas desulfurization, industrial waste acid treatment, and solid waste slag comprehensive treatment and up-to-standard discharge, etc. Zhuzhou Sante EP & Energy Saving Co., Ltd. is striving to become "the largest integrated services provider of the investment and operation of water, gas, slag treatment environmental protection facilities for national nonferrous smelting enterprises".
Zhao Zhilong, deputy director of the institute of environmental protection of Beijing mining and metallurgical technology group co. LTD, shared "Progress in smelting flue gas desulfurization, denitrification and dust removal". Zhu Beiping, general manger of Yunxi Wenshan Zinc and Indium Smelting Co., Ltd., briefly gave the introduction of techniques for making acid form flue gas and sewage acid treatment. Ouyang Kun, head of Hunan Institute of Nonferrous Metals, talked about " scientific development of nonferrou environmental protection field". At last, Qiu Luming, senior engineer of Changchun Gold Research Institute Co. LTD., made the lecture " the research and applicaiton of waste gas, waste water and waste residue by gold smelting enterprises".
It is proven that the 2nd National Nonferrous Metals Smeling Chemials and Environmental Protection Engineering Techonolgy Exchange Conference came to a perfect closing. And look forward to next exchange conferences with the local and international experts. Let's learn from each other and make greater progress!