The 2nd National Nonferrous Metals Smelting Chemical EP Engineering Technology Exchange Conference
07-01-2019
In order to further improve the environmental protection technology innovation level of non-ferrous metal smelting and chemical industry in China, focus on and improve the latest achievements of non-ferrous metal smelting enterprises in smelting wastewater, waste slag and waste gas resource reduction and reduction, and analyze the main links of pollutant production and pollutant discharge, summarize the advanced pollution control technologies applied in production and the new pollution control technologies still in the industrialization test stage, vigorously promote the demonstration project achievements and experience, enhancing the core competitiveness, and promoting the overall improvement of the non-ferrous metal industry, the "Second National Nonferrous Metals Smelting Chemical Environmental Protection Engineering Technology Exchange Conference", organized by the Metal Industry Technology Innovation Alliance, North China Metallurgical (Beijing) Engineering Consulting Co., Ltd. and Zhuzhou Sante Environmental Protection and Energy Conservation Co., Ltd., is scheduled to be held in Zhuzhou City, Hunan Province, China from Jan 12-14th, 2019.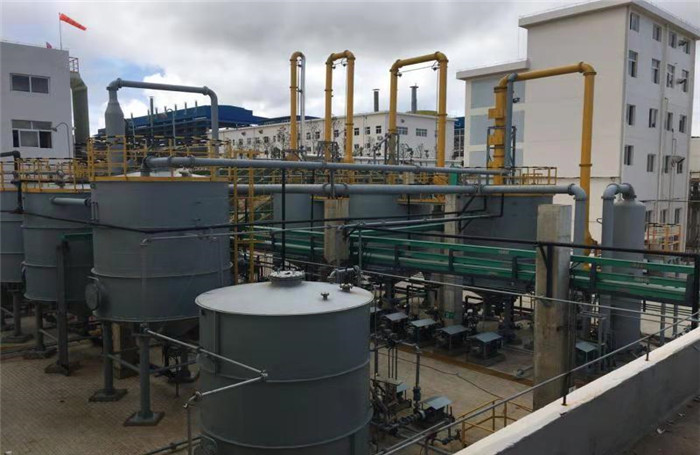 This conference will invite design institutes, research institutes and non-ferrous smelting enterprises to combine the actual situation of the unit with smelting smelting fumes, low-level heat recovery, sodium-based high-efficiency desulfurization, denitrification, mercury removal and super acid purification to make special reports with the development of technology in the fields of technology and other fields. The conference will focus on the development needs of non-ferrous metal smelting enterprises, sum up successful experiences, exchange technology research and development, technology transformation and production and application results, promote new technologies and new equipment, promote the continuous progress of non-ferrous metallurgy technology and sustainable development of the industry, and respond to the requirements for resource utilization and environmental protection of the 13th national Five-Year Plan period, and pursue mutual learning, common improvement, and cooperation and mutual benefit.
The relevant information is hereby notified as follows:
First, the organizational structure
Host unit: China Nonferrous Metals Industry Technology Innovation Alliance
Organizer: Zhuzhou Sante EP & Energy Saving Co., Ltd.
North China Metallurgical (Beijing) Engineering Consulting Co., Ltd.
Second, the meeting time, place
The conference is scheduled to be held from January 12 to 14, 2019 at fourth floor, international academic exchange center, China power valley, Zhuzhou City, Hunan Province, China.
Third, the meeting content:
1. During the 12th Five-Year Plan period, the practice summary of China's non-ferrous metal industry in implementing the scientific development concept, developing circular economy, energy conservation and environmental protection;
2. Exchange of experience in chemical and environmental engineering technology innovation of non-ferrous metal smelting enterprises at home and abroad;
3. Independent innovation results, new techinique, new process, new ideas of universities, research institutes and enterprises in the smelting smoke acid, "three wastes" resource and reduction, low heat recovery, sodium method efficient desulfurization, denitrification, mercury removal and sewage acid super purification and reuse technology and other fields of technology;
4. flue gas acid production technology
1) Low temperature waste heat recovery technology
2) Ultra-low emission technology of sulfur dioxide
3) Wet sulfuric acid technology
4) Pre-transformation technology
5) SO3 recycling technology
5. Sulphuric acid vulcanization and waste acid multi-effect evaporation concentration technology;
6. Sewage acid vulcanization purification and hot air concentration defluorination chlorine and reuse technology;
7. Stained acid super purification technology
8. Application of sulfur-hydrogen composite technology in copper electrolysis waste liquid removal and super acid purification;
9. Application prospects of high-efficiency sodium desulfurization and sulfur dioxide ultra-low emission technology in the recovery of non-ferrous smelting sulfur resources;
10. Non-ferrous smelting hazardous waste residue disposal and metal slag recycling technology;
11. Comprehensive utilization technology of water-crushing slag and slag beneficiation tailings, treatment and disposal of solid waste such as sulfurized arsenic slag by pressurized oxidative leaching and new comprehensive utilization technology
12. Innovation and development of low-level heat recovery technology for non-ferrous metal smelting;
13. Exhaust gas dedusting technology and engineering design such as flue gas cooling, waste heat recovery, flue gas dust collection (dust removal), and soot transportation.
Warmly welcome you to come to Zhouzhou city, Hunan province, China and attend this conference!